So there were at least a few of us down at Sun 'n Fun this past week. What cool and interesting things did you see? Did you end up buying anything?
I got a chance to play with a Garmin 696, which is a neat tool, but probably more than I need at the moment, especially for the price. I renewed my subscription to Aviation Safety magazine to help keep Jeb gainfully employed. I wandered through the Light Sport Aircraft area and saw some really neat airplanes. I didn't think LSAs could carry as much weight as they apparently can, and with some very interesting designs. I'd been discounting them as options because I thought big me + normal CFI = too much weight, but apparently not.
I bought a
new flight bag
at SnF. I had looked at my old bag and thought to myself: "This is a good bag, but it needs more zippers!"
I think this bag doesn't have that problem.
This is actually my third bag. The first one I got as a student was great when I had to carry the Jepp books + FAR/AIM + paperwork +.... and way too big when I didn't. The second bag which I got after after the checkride went too far the other way: just a bit too small, and not much organization. The Brightline bag is a bit bigger, and has lots organizational capabilities. Had heard good things about the bag on other forums, so decided to pick it up.
The other thing I brought home with me was the
Voyager flight planning software
. It looked very impressive in their demo, both for planning flights and for in flight use, with it able to show "highway in the sky" boxes indicating the planned route and show terrain and airspace in 3D: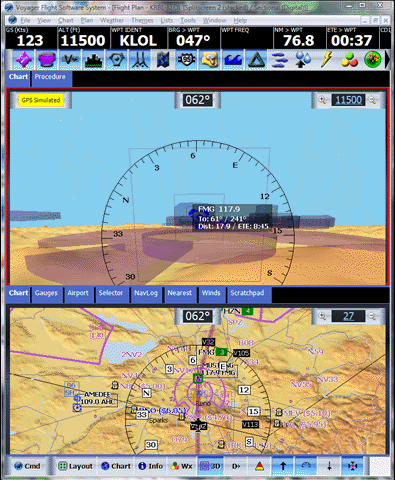 The significant show discount didn't hurt either. The real trick is going to be learning the software. And maybe buying a tablet to run it on. Has Jeb commented on how he likes his tablet since he got it so many episodes ago?
I regret not making any of the podcast broadcasts. I didn't get down there until Thursday night, and even when I was down there, I was only able to stay for 4-5 hours before my back started killing me and I went back to the hotel (I was t-boned in my Prius by a Tahoe two weeks ago, and my back is still acting up from it). As for Sunday, I should have been able to make it, but Jeb isn't the only one who struggles with getting up by the crack of noon.
I did make it in time to see them hanging around the radio station and say hi to Jack though.