Well, tonight Student Pilot Rick and I got together for a few frosty adult beverages and a bite to eat and a great two hours of waxing aviotic. It was a great time and great to meet someone else as passionate about (addicted to?) flying as I am! Thanks to the "gang" for creating this community where pilots can gather and thanks to Rick for getting together with me tonight. I look forward to defying gravity with you in the future.
-PJ
PP-ASEL as of 8/15/2007
AGI as of 6/30/2008
FAASTeam Representative
States in which I have been the sole manipulator of the controls on takeoff and/or landing: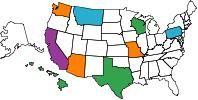 ---
Posts: 902
Joined: Mon Dec 24, 2007 10:10 am
Location: KGPM Grand Prairie, Texas
Two word reply: "clink clink!"
---
Posts: 83
Joined: Fri Dec 28, 2007 11:18 am
Location: Kalamazoo, Michigan KAZO KBTL and KGRR
That's awesome! Wish some peeps were closer to me on the Frappr map.
---
---
Who is online
Users browsing this forum: No registered users and 6 guests