Posts: 190
Joined: Mon Sep 15, 2008 3:04 pm
"Good Rock... Welcome to Oshkosh"
AirVenture 2019: July 22-28
http://www.airventure.org
Like they say in baseball, there's always next year.
-DJTorrente
---
---
My guess, or fond hope, is that sanity will return to a degree, but it is going to take time. In the mean time we just have to learn to laugh when we feel like crying.
Or fly our own planes and let others suffer.
Remember, not all who wander, are lost.
---
AMEN!
-PJ
PP-ASEL as of 8/15/2007
AGI as of 6/30/2008
FAASTeam Representative
States in which I have been the sole manipulator of the controls on takeoff and/or landing: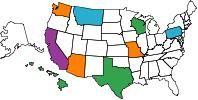 ---
---
Who is online
Users browsing this forum: No registered users and 5 guests