Forum rules
We'd love to have you Reply to posts in this Forum, but please don't create new Topics here. One exception: If we haven't created a thread for a particular episode, feel free to get it started. For other subjects, I suggest creating new Topics in Virtual Hangar=>Other Topics. Thanks.
Posts: 808
Joined: Thu Dec 20, 2007 1:02 pm
Welcome to the Hangar, Mara...hope you chime in often...can't have too many and the more the smarter we collectively become...

Dave
---
Posts: 133
Joined: Tue Feb 12, 2008 11:34 pm
The UCAP discussion of the USA Today article caused me to analyze the story from a journalistic point of view. I think we can figure out where Thomas Frank got the "facts" for his story by looking closely at the people he quotes and the order in which they appear.

But, what I found most interesting, is to look at other stories Mr. Frank has written. Just go to USA Today or (Lexis/Nexis) and examine the articles under which his byline appears. Here is a sample from the USA Today website:
"UPS, FedEx reap the benefits of airports' pet projects"
"Analysis: Airports get $1.1B for pet projects"
"Feds keep little-used airports in business"
"Small border crossings to get big share of funds"

Mr. Frank also appears to be a fan of the TSA, and reports favorably on use of high technology in government, border security, law enforcement, and other programs.
A commercial pilot, IFR rated, who flies a Cirrus SR22 out of JYO.
---
Posts: 808
Joined: Thu Dec 20, 2007 1:02 pm
He's a known entity to a lot of folks inside the Beltway...just wish more of what he published could pass the test of being actual "journalism"...

Dave
---
The USA today guy is at it again
http://www.usatoday.com/travel/flights/ ... orts_N.htm
Inspired buy this ranting episode, I signed up for an account and let them have it. Somehow my rant had an odd numeric error but here is the corrected version. Thanks for the inspiration guys.
TO USA TODAY
This article is part of a one-sided series of hatchet jobs on small airports. They read like talking points from the airline industry lobby trying to scapegoat their woes on communities that don't contribute to their profit margins (i.e. smaller airports that don't land 737s daily).
By cherry-picking a few small airports with trophy homes the author is lazily perpetuating the mythology that small airports are for posh elites and not the rest of us. It is akin to pointing out how much of the Interstate Highway system consists of pavement in the middle of nowhere that people in the big cities shouldn't have to pay for because there are no major cities on either end of Wyoming, Nebraska, South Dakota or New Mexico.
Its called infrastructure, it is a public good, and we all have to pay for it even if 1 out 10 people live in NYC or LA. Our federal transportation infrastructure NEEDS small airports with low traffic. Ask yourself how FedEx gets overnight service into small Western towns between 5,000 and 50,000 people. How do small communities get critical patients to larger medical facilities? What if your business interests aren't served by the "big airlines?" What if that commercial airliner looses an engine or experiences exploding underwear over Idaho Falls or Richland, Wa? What if you have an accident on a remote stretch of interstate and need to be med-evac'd from a small community?
The author is under the illusion that low use means low importance. If he was actually practicing journalism, he would know there is another side to this story - but he isn't practicing good journalism, apparently he is featherbeading a job with the airline lobby.
---
Amen IdahoMike, great post!
-PJ
PP-ASEL as of 8/15/2007
AGI as of 6/30/2008
FAASTeam Representative
States in which I have been the sole manipulator of the controls on takeoff and/or landing: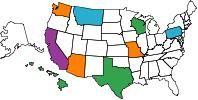 ---
---
Who is online
Users browsing this forum: No registered users and 8 guests